'Unlocking power of gene editing to protect the natural environment' - the Earlham Institute comments
28 September 2021
Image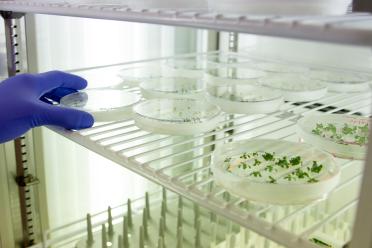 The Government has published plans for how it will support UK scientists to unlock the potential benefits of gene editing, but the Earlham Institute warns greater detail is needed along with funding commitments for plant science.
Published as part of the Government response to the DEFRA consultation on the use of gene editing in UK agricultural practices, the plans aim to replace the existing EU regulations and empower UK-based scientists to help farmers grow more disease-resistant, more nutritious and productive crops.
In response to the announcement, the Earlham Institute has said the reforms don't go far or fast enough to maximise the potential of technologies that directly address the urgent issues of climate change, food security, and sustainability.
Gene editing is a tool that makes plant breeding more precise and efficient, allowing the production of crops with greater nutritional value, increased resistance to disease and pests, and higher productivity.
New genomics technologies could also help UK farmers grow crops which need fewer chemicals to protect them, helping both the agri industry and delivering critical impact for climate and biodiversity goals.
Gene editing is different from genetic modification, as it does not result in the introduction of DNA from other species, and creates new varieties similar to those that could be produced more slowly by natural breeding processes. In the UK, They are currently regulated in the same way as genetically modified organisms, following the European Court of Justice ruling in 2018.
With leaving the EU, the government said: "the UK is opening up opportunities to adopt a more scientific and proportionate approach to the regulation of genetic technologies. As a first step, they will change the rules relating to gene editing to cut red tape and make research and development easier."
The new plans will see genetically edited plants treated in the same way as plants developed using traditional breeding methods. This will reduce the burden on researchers, though they will still be required to notify Defra of any plans for field trials.
There will also be steps taken to review the regulatory definitions of 'genetically modified organisms', which will no longer apply to organisms produced by gene editing and other genetic technologies - provided it can be shown they could have been developed using traditional breeding methods.
Despite the government's strong statements of support, scientists working in this area have called for more funding and asked for greater detail to enable gene editing fully - particularly on commercialisation. There are concerns that this missing information will act as a disincentive for researchers to start field trials and minimise the size of the UK market, which may in turn stall further regulatory changes needed to maximise the potential of genetic technologies.
In light of DEFRA's announcement today, our Synthetic Biology Group Leader Dr Nicola Patron, comments:
"Given the urgency of climate change, biodiversity loss and food security and the enormous potential genetic technologies have for developing crops for sustainable agriculture, today's announcement on gene editing does not go far or fast enough.
"The Government must bring forward modern, progressive and proportionate regulations to allow gene edited products to be brought to market and provide consumer confidence. The UK is already home to some of the best plant scientists in the world. Removing some of the barriers for developing gene-edited crops will help UK scientists progress their research - but continuing to prevent the commercial application of their research risks starving plant science of the critical investment needed.
"There's still a clear need for new regulatory practices to prioritise the growth of healthy, nutritious, and environmentally beneficial crops rather than focussing on the techniques used to develop them.
"To compensate, UK plant science must be an immediate investment priority. This will enable new agri-products that drive green growth, benefiting our planet and society."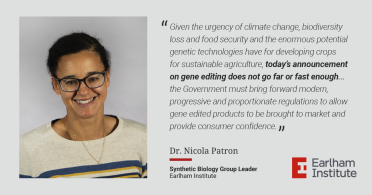 Notes to editors.
About Earlham Institute
The Earlham Institute (EI) is a world-leading research Institute focusing on the development of genomics and computational biology. EI is based within the Norwich Research Park and is one of eight institutes that receive strategic funding from Biotechnology and Biological Science Research Council (BBSRC) - £5.43m in 2017/18 - as well as support from other research funders. EI operates a National Capability to promote the application of genomics and bioinformatics to advance bioscience research and innovation.
EI offers a state of the art DNA sequencing facility, unique by its operation of multiple complementary technologies for data generation. The Institute is a UK hub for innovative bioinformatics through research, analysis and interpretation of multiple, complex data sets. It hosts one of the largest computing hardware facilities dedicated to life science research in Europe. It is also actively involved in developing novel platforms to provide access to computational tools and processing capacity for multiple academic and industrial users and promoting applications of computational Bioscience. Additionally, the Institute offers a training programme through courses and workshops, and an outreach programme targeting key stakeholders, and wider public audiences through dialogue and science communication activities.