A big data cyberinfrastructure to keep pace with Colombia's natural capital
16 January 2020
Image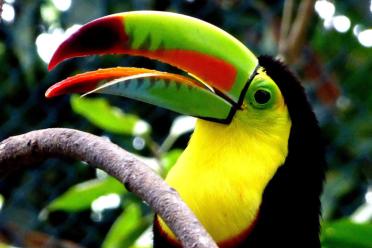 <strong>Earlham Institute leads a multidisciplinary international team to set out key priorities for building research cyberinfrastructure for biodiversity in Colombia and other emerging countries, through <a href="https://doi.org/10.1002/ppp3.10086" title="Read the publication in Plants, People, Planet">an open access article in "Plants, People, Planet"</a>.</strong>
Colombia's biological wealth, a flourishing academic sector and blossoming international collaborations provide a fantastic platform for the country to thrive as a global centre for bioscience, especially as it is the second most 'megadiverse' country on Earth.
As part of one such international collaboration, GROW Colombia, EI and international partners are proposing the development of a bespoke digital platform which can help scientists in Colombia better document and analyse the abundant data that comes along with having such a wealth of natural capital - including as yet undiscovered biodiversity from previously unexplored regions after a recent period of relative peace.
There is a great deal of value in cataloguing, understanding, and harnessing such biodiversity, and the untapped natural capital of nations such as Colombia - helping to protect and conserve ecosystems that are under threat, while stimulating the bioeconomy and improving socioeconomic wellbeing.
It's one thing having all this data, but another thing entirely gleaning from it the useful information, which is where a research cyberinfrastructure comes in. The development of this digital infrastructure would help to democratise access to the available resources in a collaborative online environment. Open sharing of valuable data would help drive scientific research, while promoting socioeconomic developments based on research outcomes.
To kick-start the conversation, and to energise the Colombian bioscience community, EI's Rob Davey previously led a workshop that brought together scientists from all over the country, who mobilised to form the C3 biodiversidad network, which formed the basis of this latest article in 'Plants, People, Planet'.
The team led by Professor Federica Di Palma and Dr Jose De Vega of EI outlined a reference framework for establishing a research cyberinfrastructure in emerging countries. The framework builds on several priorities, which are to increase advanced training, develop incentive-based policies for research data, involve a diversity of stakeholders in research planning and improve the physical infrastructure for data science.
The four key priorities of the reference framework in more detail:
Developing computational resources that can adapt to the rapidly changing digital world is essential. Coordinated digital infrastructure can avoid duplication of data, facilitate remote collaboration, and increase knowledge exchange.
Implementing a national FAIR policy for research data management; facilitating the sharing of open-access data, and data-supported decision making.
Growing training in scientific data analysis for users and providers; designing and promoting a coordinated programme of training in scientific data analysis tailored to different career levels, as well as providing career development opportunities.
Securing the engagement of diverse stakeholders in planning; i.e. making sure that the needs of the community are understood and being met.
According to Jose De Vega the next step will be: "For Colombia's research cyberinfrastructure to support the discovery and ongoing learning about Colombian biodiversity".
"The cyberinfrastructure must be driven by those communities that need it most. The Royal Academy of Engineering is funding follow-up workshops and training events in Colombia in 2019 and 2020 to progress on these efforts."
Professor Federica Di Palma, Leader of the GROW project, added: "Designed on the principles of democracy, open access and sustainability, this bespoke cyberinfrastructure can provide effective platforms for leaders, civil society and scientists alike to shape the tools and decisions that lead to better practices and policies for biodiversity to foster the development of Colombia".
The four-year UKRI-funded "GROW Colombia" project aims to build research capacity in Colombia by promoting innovative technologies, developing excellent research capabilities, building multidisciplinary partnerships, and fostering best practice in knowledge exchange, with the longer-term goals to conserve invaluable wildlife while maintaining lasting peace and economic prosperity. The recent cessation of conflict in parts of rural Colombia has resulted in those areas becoming available for exploration to advance ecological and biological discovery.
Notes to editors.
For more information, please contact:
Peter Bickerton
Scientific Communications and Outreach Manager, Earlham Institute (EI)
About Earlham Institute
The Earlham Institute (EI) is a world-leading research Institute focusing on the development of genomics and computational biology. EI is based within the Norwich Research Park and is one of eight institutes that receive strategic funding from Biotechnology and Biological Science Research Council (BBSRC) - £5.43m in 2017/18 - as well as support from other research funders. EI operates a National Capability to promote the application of genomics and bioinformatics to advance bioscience research and innovation.
EI offers a state of the art DNA sequencing facility, unique by its operation of multiple complementary technologies for data generation. The Institute is a UK hub for innovative bioinformatics through research, analysis and interpretation of multiple, complex data sets. It hosts one of the largest computing hardware facilities dedicated to life science research in Europe. It is also actively involved in developing novel platforms to provide access to computational tools and processing capacity for multiple academic and industrial users and promoting applications of computational Bioscience. Additionally, the Institute offers a training programme through courses and workshops, and an outreach programme targeting key stakeholders, and wider public audiences through dialogue and science communication activities.

About BRIDGE Colombia
The BRIDGE Colombia network (www.bridgecolombia.org) is a multidisciplinary network of research organisations in the UK and Colombia founded in March 2017, focused on the development of robust coordinated activities under a shared vision centered on biodiversity as a means to achieve sustainability and peace.
"GROW Colombia" sits alongside the BRIDGE Colombia network. The network actively facilitates collaborative and fully integrated research programmes; promotes research excellence and the use of innovation in technologies and approaches to develop resilience in research capabilities; stimulates partnerships; and promotes exchange of knowledge.
About GROW Colombia
A recent award from RCUK's Global Challenges Research Fund is set to stimulate the bioeconomy by increasing knowledge of Colombia's greatest treasure, its biodiversity, following the peace agreement.
This project, "GROW Colombia", aims for research excellence through promoting innovative technologies, developing resilient research capabilities, building partnerships, and fostering best practice in knowledge exchange, with longer-term goals to stimulate economic and social growth.
UK-based researchers are working with Colombian researchers, industry partners and crop breeders to study the genetic diversity within the country's unique biodiversity, documenting its distribution and the threats it faces, as well as to gain the skills needed to drive sustainable innovation and to attract further public and private funding.