€1.5m EU grant to probe unexplored microbe diversity in the human gut
03 September 2020
Image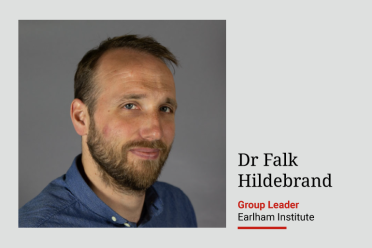 Dr Falk Hildebrand has won a €1.5 million grant from the European Research Council (ERC) to research the role that lesser known microbes play in the gut microbiome and human health - addressing fundamental gaps in our understanding.
Dr Falk Hildebrand has won a €1.5 million grant from the European Research Council (ERC) to research the role that lesser known microbes play in the gut microbiome and human health - addressing fundamental gaps in our understanding.
The funding comes from the ERC's prestigious Starting Grants, designed to help early-career scientists and scholars build their own teams and lead pioneering research. The grants are part of the EU's Research and Innovation programme, Horizon 2020.
The role of microbes in maintaining a healthy gut - and human health more broadly - has become increasingly clear in recent years. However, this knowledge is mainly based on just a few dominant species, and much about their interaction with the gut remains undiscovered.
There are still many gut microbe species we are yet to explore - particularly those which are present in low amounts. A better grasp of how these lesser known microbes evolve to colonize the gut could play a major role in understanding the evolution of our microbiome, and improving human health.
Dr Hildebrand, Group Leader at Earlham Institute and Quadram Institute, said: "I am delighted to be awarded this prestigious ERC Starting Grant to enable us to research these elusive microbes, which until now have remained largely ignored.
"We have shown in previous work that some of these microbes appear to be a stable component of the human gut and can be passed down in a family through multiple generations. It's likely that they play an important role in our health."
The funding will be used to apply genomic sequencing to identify these microbes - both bacteria and eukaryotes (including fungi and protists). By investigating which of them can survive and persist in the gut through several generations, it will then be possible to understand which genes play an important role in gut colonization.
"The grant will help us address fundamental gaps in our understanding of how microbes adapt and persist within the human gut," said Hildebrand. "The knowledge we glean can help improve human health through identifying potential genetic targets to make positive changes to our gut microbiome."
Dr Hildebrand will be recruiting a PhD student and a post-doctoral position for the EPYC study from January 2021.
Notes to editors.
For more information, please contact:
Peter Bickerton
Scientific Communications and Outreach Manager, Earlham Institute (EI)
About Earlham Institute
The Earlham Institute (EI) is a world-leading research Institute focusing on the development of genomics and computational biology. EI is based within the Norwich Research Park and is one of eight institutes that receive strategic funding from Biotechnology and Biological Science Research Council (BBSRC) - £5.43m in 2017/18 - as well as support from other research funders. EI operates a National Capability to promote the application of genomics and bioinformatics to advance bioscience research and innovation.
EI offers a state of the art DNA sequencing facility, unique by its operation of multiple complementary technologies for data generation. The Institute is a UK hub for innovative bioinformatics through research, analysis and interpretation of multiple, complex data sets. It hosts one of the largest computing hardware facilities dedicated to life science research in Europe. It is also actively involved in developing novel platforms to provide access to computational tools and processing capacity for multiple academic and industrial users and promoting applications of computational Bioscience. Additionally, the Institute offers a training programme through courses and workshops, and an outreach programme targeting key stakeholders, and wider public audiences through dialogue and science communication activities.

About Quadram Institute
The Quadram Institute (quadram.ac.uk) is an interdisciplinary research centre at the forefront of a new era of food and health research. It brings together researchers and clinicians under one roof and houses one of Europe's largest endoscopy units and a clinical trial facility. It focuses on lifelong health – from birth and throughout the lifecourse, increasing healthspan as well as lifespan. It undertakes both fundamental and translational research working with industry to accelerate innovation and bring novel therapeutics and new food products to patients and consumers.
Based on the Norwich Research Park, The Quadram Institute is a partnership between Quadram Institute Bioscience, the Norfolk and Norwich University Hospitals NHS Foundation Trust, the University of East Anglia and the Biotechnology and Biological Sciences Research Council (BBSRC).
Four interconnected interdisciplinary research themes in Quadram Institute Bioscience deliver a pipeline of research in plants, microbes, food and health: microbes in the food chain; the gut and the microbiome; food innovation and population health.