Computational resources to power your bioinformatics analysis while working from home
08 April 2020
Image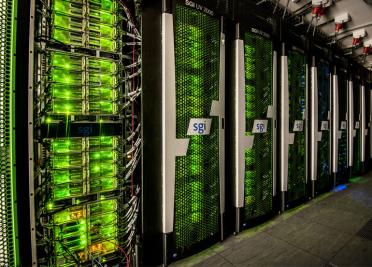 If you're a UK-based life science researcher working from home, you might require some additional computing power. Through CyVerse UK and Galaxy, we offer cloud-based resources to help you.
As large numbers shift to working from home for the foreseeable weeks and months, many researchers will be taking this opportunity to run those bioinformatics analyses they hadn't had time for amidst a busy wet lab schedule.
Thankfully, bioinformatics lends itself very well to working from home - as long as you have the computational power. This isn't something every researcher has access to but, fortunately, help is at hand.
The Earlham Institute (EI) provides the National Capability in e-Infrastructure, hosting one of the largest data centres for life science research in Europe. This equips us with more than enough capacity to share some of our computational resources with the wider scientific community.
Through CyVerse UK, a cyberinfrastructure hosted at EI, you can access cloud resources such as virtual machines (VMs) with a number of different configurations tailored to your needs, ranging from a bare Ubuntu Linux machine to VMs pre-installed with Python, R, and other bioinformatics tools. We can also host websites, as well as web services that might need a computational infrastructure to run jobs. Our team can help answer any questions you have and recommend options, which include additional scratch storage space and longer term object storage while you work on your project.
The CyVerse UK platform also hosts several bioinformatics data management and analysis tools and applications, including COPO to help you submit data to public repositories, and Grassroots Genomics to help you share wheat and other crop-related data.
Researchers can also request access to our Galaxy service, also hosted on CyVerse UK, providing easy web-based access to the most common bioinformatics tools for genomics, transcriptomics, phylogenetics and more.
If you want to find out more, and see how we might help you, please contact the team at CyVerse UK, check out the CyVerse UK website, and read more about Earlham Institute's National Capability in e-Infrastructure on the EI website. EI hosts the ELIXIR-UK node, and you can find more information on ELIXIR-UK.
Notes to editors.
Who to contact
For more information on CyVerse UK, contact Alice Minotto: alice.minotto@earlham.ac.uk, cyverseuk@earlham.ac.uk
For more information about Galaxy and ELIXIR-UK, contact Dr Nicola Soranzo: nicola.soranzo@earlham.ac.uk
For more general information about strategy and organisation of the National Capability, please contact Dr Rob Davey: robert.davey@earlham.ac.uk
For media requests, please contact:
Peter Bickerton
Scientific Communications and Outreach Manager, Earlham Institute (EI)
About Earlham Institute
The Earlham Institute (EI) is a world-leading research Institute focusing on the development of genomics and computational biology. EI is based within the Norwich Research Park and is one of eight institutes that receive strategic funding from Biotechnology and Biological Science Research Council (BBSRC) - £5.43m in 2017/18 - as well as support from other research funders. EI operates a National Capability to promote the application of genomics and bioinformatics to advance bioscience research and innovation.
EI offers a state of the art DNA sequencing facility, unique by its operation of multiple complementary technologies for data generation. The Institute is a UK hub for innovative bioinformatics through research, analysis and interpretation of multiple, complex data sets. It hosts one of the largest computing hardware facilities dedicated to life science research in Europe. It is also actively involved in developing novel platforms to provide access to computational tools and processing capacity for multiple academic and industrial users and promoting applications of computational Bioscience. Additionally, the Institute offers a training programme through courses and workshops, and an outreach programme targeting key stakeholders, and wider public audiences through dialogue and science communication activities.