Jolly good fellows: building a career at Earlham Institute
Independent research fellowships are a great route to establish yourself as a group leader. What's it like to do one at Earlham Institute?
We spoke to two researchers at either end of the fellowship process at EI; Tamás Korcsmáros - who after successfully completing his five year fellowship leads a large and successful group investigating computational and network-based approaches to understanding complex systems such as the gut; and Edyta Wojtowicz - who recently began her Sir Henry Wellcome Postdoctoral Fellowship and works on some of the latest single cell sequencing technologies alongside the Iain Macaulay Group.
Hi Tamás, what attracted you to EI to do your Fellowship?
I arrived on a Sunday, looked around Norwich, and I fell in love with the city. Next day, I met with a couple of group leaders and directors of both EI and the Quadram Institute (QI), and I really liked the available infrastructure and the innovative, big scientific strategy at EI as well as the exciting new building plan for QI.
I decided to apply for the fellowship as it provided a joint affiliation to both institutes, which meant that I was finally able to do both computational and experimental research. As an experimental biologist originally who was working with only computational biology at that time, it seemed to be the perfect place for me.
I saw multiple issues with only having either an experimental or computational lab when you are interested in complex biological systems, and most of the groups I knew were struggling to validate their predictions, interpret their data, and publish on time.
Joining EI and QI provided me with special support to establish a new research group in my first independent position tackling interesting questions about host-microbe interactions in the gut.
Tamas is jointly affiliated to Earlham Institute (left) and Quadram Institute (right), both adjacent on the Norwich Research Park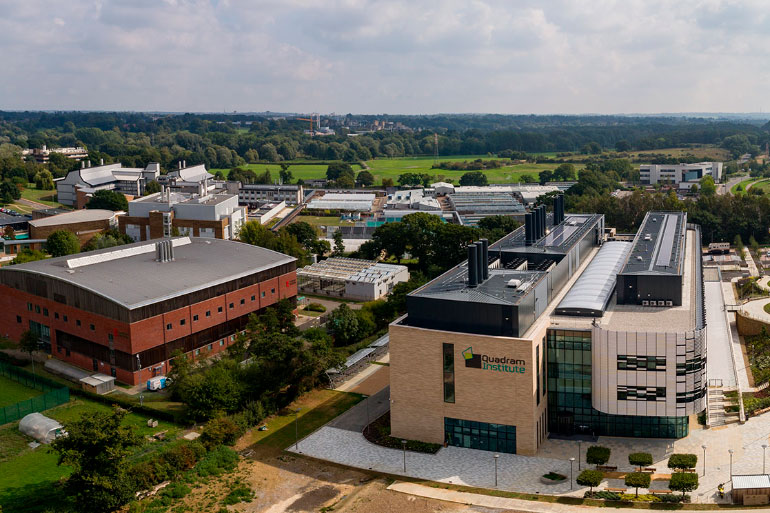 After five years, how's the fellowship gone?
The first two years were challenging (like probably for anyone who starts his or her group, and also moves to a new country), as I needed to establish everything, learn the local research plans, understand the UK scientific and funding landscape better, etc.
Now it is fantastic to think back that five years ago, it was only two to three people in my group, while now we are 13 or 14. We've delivered lots of things, from publications to courses, industry collaborations and even a patent, while I also contributed to multiple new policies and joint positions between the EI and the QI to facilitate joint research work - and this was the main aim of the BBSRC fellowship funding in 2013.
What are your highlights from the fellowship?
The main outputs of the group were to develop and maintain network biology resources on signalling pathways and autophagy regulation, create scalable and reusable computational workflows and software platforms to carry out automated analysis of big data in multi-omics and precision medicine, and to validate these computational approaches experimentally in various model systems. I was super excited when one of our signalling pathway resources made it to the cover of Nature Methods.


These resources and computational methods provided the following three significant biological insights:


1) the hidden importance of first neighbours (protein interactors) of mutated proteins in cancer and in inflammatory bowel disease (IBD) that allowed us to define novel biomarkers and drug repurposing options;
2) a complex evolutionary interplay between bacterial and host autophagy proteins that pointed out parallel evolutionary mechanisms, explanation why certain infections are higher in IBD, and potentially novel antimicrobial drug targets;
3) a new mechanism on how autophagy dysfunction contribute to IBD, and what processes may also be affected upon treating a patient with autophagy modulating drug.

Recently, I was able to present these to around 8,000 gastroenterologists and IBD specialists at a plenary talk of the European Crohn's and Colitis Organization Congress - it was a fantastic feeling, not to mention being projected to a 30 metre display screen.
Finally, thanks to the initial support and inspiration of Tom Wileman (UEA, QI), we were able to establish new protocols to investigate gut organoids with multi-omics approaches and analyse host-microbe interactions. I hope these three projects will influence not only directly their respective fields but also how we are analysing complex biological systems going forward.

Recently, I was able to present these to around 8,000 gastroenterologists and IBD specialists at a plenary talk of the European Crohn's and Colitis Organization Congress - it was a fantastic feeling, not to mention being projected to a 30 metre display screen.
Are there particular challenges your Group has overcome?
Logistically, working at and for two institutes has always been challenging but I am grateful for the operational leads of both EI and QI, as they always found a solution for us.
From a scientific point of view, one of the main challenges for us was how we might do in-depth sequencing and proteomics in organoids, which contain far fewer cells than traditional biopsies.
Working with EI's Genomics Pipelines team, we were able not only to overcome the issue of not having enough RNA or protein to analyse but actually we can now have two-three times more than what is needed.
What's next, now that your fellowship is complete?
I had a thorough review to discuss the successes of my fellowship, and as a result I was offered a tenure-track group leader position at EI, with continued support and affiliation from QI, so I am very happy - especially with the group I am leading full of such nice and talented people.
Furthermore, with the fantastic resources at EI and the brand-new QI building, we are in a unique position in the field. Having put in the ground work I'm excited to be able to focus on important scientific questions in the field of gut biology and precision medicine, and worry less about developing tools and pipelines in the lab or at the computer.
Tamas is excited for the next phase in his career, focusing on tackling complex questions in gut biology.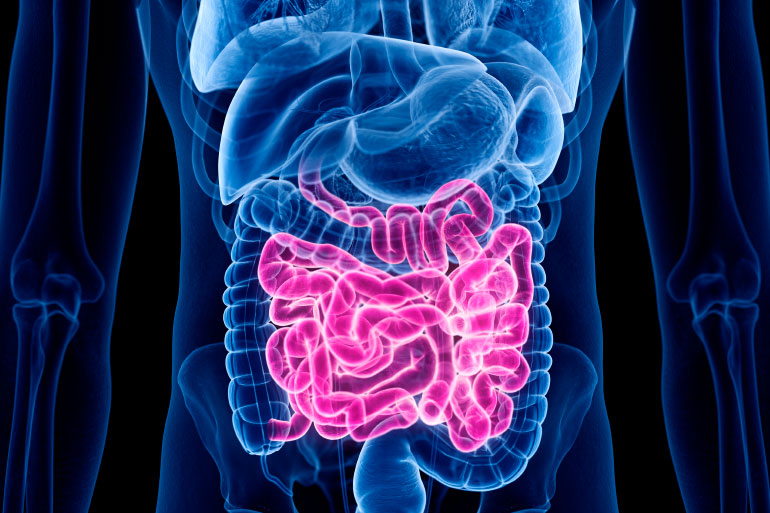 Hi Edyta, could you briefly describe your fellowship at EI?
I began my Sir Henry Wellcome Postdoctoral Fellowship in May 2019, affiliated with EI, the University of East Anglia (UEA) and The Sanger Institute in Cambridge. The unique possibility offered by this particular post enabled me to work on a project requiring the expertise and facilities available in three laboratories: I aim to establish a quantitative lineage tracing approach to track cells using RNA molecules.
It's a tremendous asset to have access to relevant model organisms, liquid handling robotics, DNA sequencers, bioinformatics support and broad expertise in library construction and sequencing, as well as the possibility to implement and further customize cutting edge single cell methods developed in the Macaulay group.

It's a tremendous asset to have access to relevant model organisms, liquid handling robotics, DNA sequencers, bioinformatics support and broad expertise in library construction and sequencing.
When I was looking for a host institute I paid attention to the expertise and facilities available in different places. At the same time I realized I needed a supportive environment, where I could openly discuss my results and failures that are inevitable in science and in particular when troubleshooting new methodologies.
To test my method I needed the expertise and facilities allowing physical separation of DNA from RNA from the same cell. At that time there were two available approaches, but only one of them truly separated both molecules instead of 'masking' them during the bioinformatic analysis.
Thus, I decided to contact Dr. Macaulay, to see whether he would be interested in the collaboration or supporting my fellowship application. His great support in finding other mentors, establishing a connection with the Director of EI, and enthusiasm for the project finally brought me to EI.
How do you like working at EI?
I find the work environment very supportive, nurturing and positive. I enjoy discussing new scientific findings and any problems I encounter. It is easy to seek advice even from other group members, whom I have not met in person.
They are helpful and willing to spend their time to resolve the problem (eg. faulty installation or malfunctioning script). It really makes me feel I am not on my own with wet lab or data analysis problems.
Edyta Wojtowicz enjoys working at EI because of its supportive, nurturing and positive culture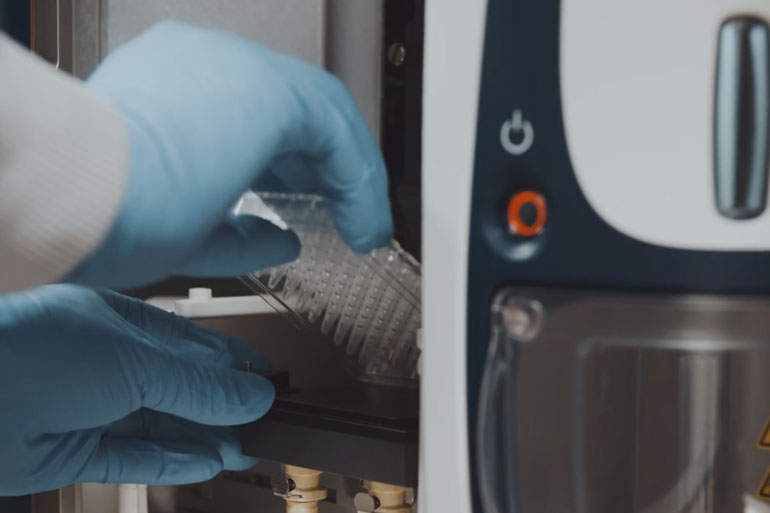 What are you hoping to achieve while you are here?
My curiosity has brought me to EI to evaluate if my ideas and assumptions hold true and can broaden our understanding of basic biological processes.
During my stay at EI I would like to gain expertise in using liquid handling robotics and master my bioinformatics skills to independently analyse my own and others' results to benefit from published, relevant large datasets. I am positive that the supportive environment and friendly atmosphere in the institute will help me achieve these objectives.
What's life like in Norwich, and on the Norwich Research Park?
Norwich reminds me of Groningen, the Dutch city where I did my PhD. It is not big, but provides all kinds of activities. I really enjoy the open market and the variety of food from different parts of the world available in stalls in the Norwich main market. Since the city is pretty flat it is easy to cycle and it also reminds me of the Netherlands!
There's also easy access to facilities [sports, recreational, and more] for researchers from all the different institutes on the Norwich Research Park, and the friendly staff from each and every institute make this a great place to be.
The beautiful roofs of Norwich's award winning covered market.