A PhD, is it worth it? Just ask our students
From publishing new machine learning algorithms to establishing bioinformatics training programmes in Ghana and giving a talk in the plenary session of an international conference, Earlham Institute students have already achieved a lot during their PhDs.
Choosing to undertake a PhD is a major life decision. Deciding whether it's the right next step for you, as well as what and where you might study, takes time and research all of its own (check out our feature on the 10 things you need to know before starting a PhD).
To give an insight into PhD life at EI, we've been following our latest student cohort as they learn and flourish. Just over a year ago, we asked them what they'd learnt in their first six months. Now, those students are over halfway through and have a host of achievements to their name already - showing that a PhD can most definitely be worth it.
We asked each of them what their first 2 years have taught them, what they're proud of, and what they're looking forward to as they head into the final stretch of their PhD.
Matthew Madgwick, machine learning and network biology in the Korcsmaros Group
What have you learnt?
Time management, 100%. Understanding and prioritising tasks - knowing when to spend an insane amount refining something, and learning when to say, actually - that's enough. You know the phrase, done is better than perfect. Just get it done, afterwards you can go back and refine it.
What are you most proud of?
It's got to the stage that across the Institute people email me asking my opinion on something. Going from the person that's new, to the person to ask advice from - and actively get me involved in a project - is really nice, but difficult because you have to learn when to say no.
It might sound boring but finally seeing the projects I've started coming to a close has been nice. Going from nothing, or just an idea, to something that's done is quite satisfying.
What are you looking forward to?
I come from a software engineering background. What I've really enjoyed is taking tools that are meant for one thing and applying them to biology. The philosophy that I take is to get tools from big tech companies like Google and Facebook and repurpose them, and now I'm doing that for bioinformatics tools. Taking an idea and asking, how can we move that to a new problem? I'm excited to see if that works.
PhD student Matt giving a talk to some local students on his topic of research at the EI open day 2019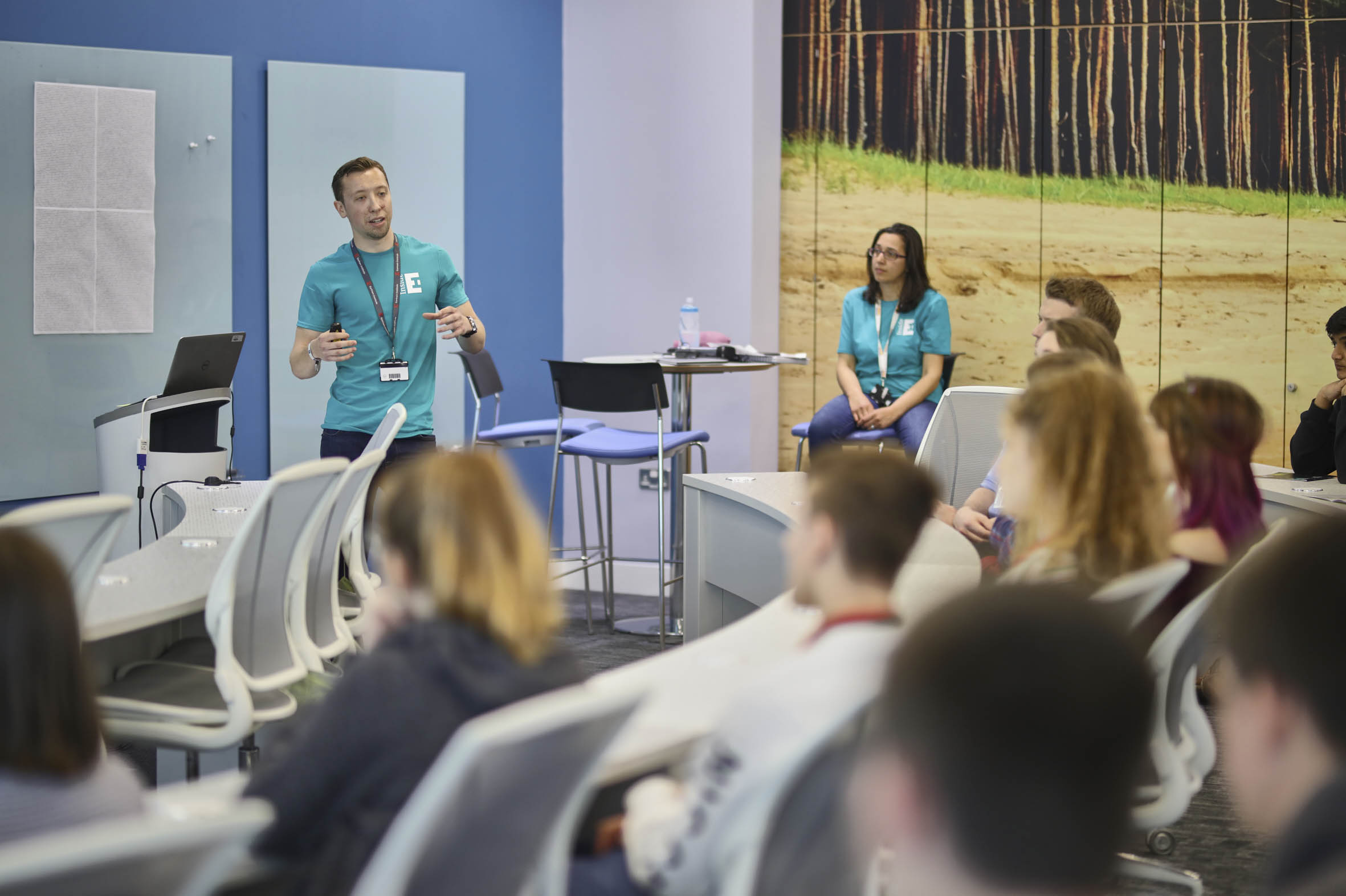 Martina Poletti, organoids and gut health in the Korcsmaros Group
What have you learnt?
One major thing is time management. Doing a PhD you have so many activities, especially in the lab, so taking notes - so two years down the line you remember what you did and why - and organising your to do list is key.
It's also good to know it's normal that things fail. At the beginning I think I was optimistic about what was possible in four years, but after speaking to other PhD students even in their fourth years it's clear that you have to be realistic about what you can achieve.
I've also learnt a lot of bioinformatics, technical skills such as R, which is one thing I really wanted to do during my PhD.
What are you most proud of?
I spoke in the plenary session of an organoid conference last year in the USA, after submitting an abstract and getting it accepted. There were a lot of people there who seemed very interested, and I gave a good presentation (I didn't freak out on stage!), so that was a proud moment.
What are you looking forward to?
I am working on a lot of different techniques, which has been a lot of trial and error leading up to the main experiment. I'm looking forward to taking that working set up and then generating data which I can analyse using network biology approaches.
I'm also really excited for my PIPS placement. I've secured a place at Danone, which has been a dream of mine - they work a lot with probiotics and nutrition. I want to see how I can apply this academic knowledge in a company, one where I might like to work in the future, so I'm looking forward a lot to that.
PhD student Martina engaging with members of the public at EI's last Open Day.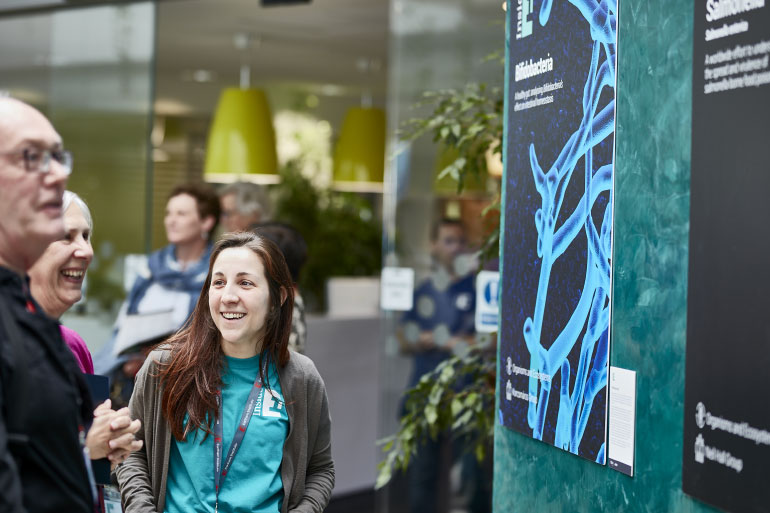 Peter Osborne, bioinformatics and vertebrate genomics in the Haerty Group
What have you learnt?
Patience. Things sometimes won't work and you need time to make them work, and making sure that you don't lose hope is important.
What are you proud of?
I know a lot more than I did when I started, and not necessarily in areas I was expecting to. Working with people doing a diverse range of projects has helped me broaden my horizons, and gain new skills - in bioinformatics, coding, and ecological processes, the nitty gritty of doing biology and research science. I also hopefully have a paper coming out soon.
What are you looking forward to
The end of the pandemic - and therefore being able to do fieldwork in exotic locations! As part of my PhD project I'm supposed to be sampling desert mice in Israel and Jordan to study their adaptations to an arid environment.
EI PhD student cohort enjoying the famous EI coffee machine!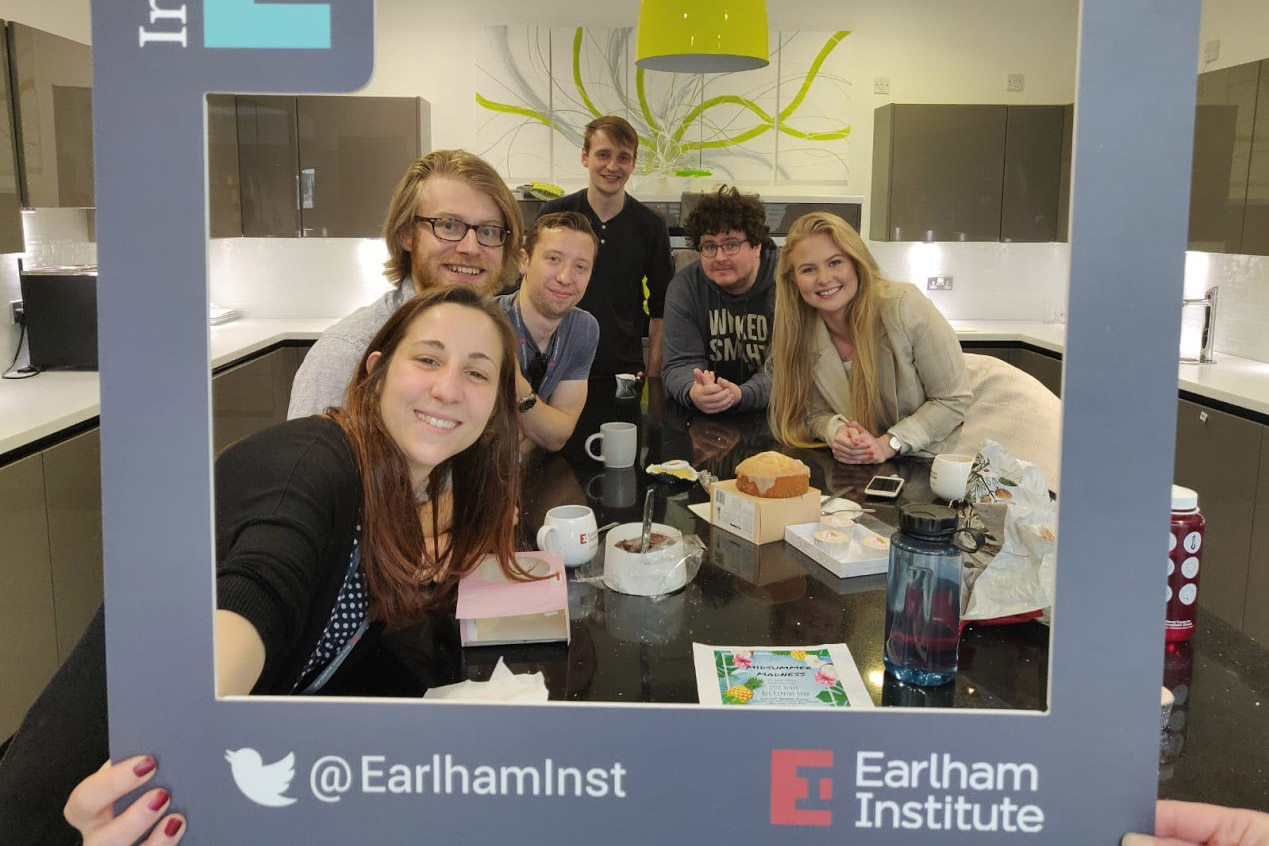 I know a lot more than I did when I started, and not necessarily in areas I was expecting to. Working with people doing a diverse range of projects has helped me broaden my horizons, and gain new skills
Interested in doing a PhD?
If you're interested in applying for a PhD, applications for our 2021 NRPDTP studentships with Earlham Institute are now open. Begin your academic career with the expert scientists, technology and facilities at the Earlham Institute in Norwich.
Josh Colmer, machine learning and phenomics in the Anthony Hall Group
What have you learnt?
Being surrounded by a lot of biologists and bioinformaticians, I've learnt a lot about genomics and plant biology which has been useful. I knew so much about data science and machine learning already (which I learnt in my free time doing competitions!), so being able to then understand the biological questions that people are interested in - and the things to look for - means that I feel confident now to form my own hypotheses and questions.
What are you most proud of?
My biggest achievement has been the paper we published in New Phytologist on SeedGerm, which was great but significant parts of the project were completed by other members of the team. On the other hand, the current project I'm working on - Trans-Learn - is largely my own work. It's a machine learning method for identifying genes which are affected by viruses, which we are going to publish soon. I'm perhaps more proud of that because it feels more like my work and my ideas.
What are you looking forward to?
I'm really looking forward to Trans-Learn being published, I've been working on that for two years now!
PhD Student Josh presenting a poster on his work in the latest NBI Student Annual Science Meeting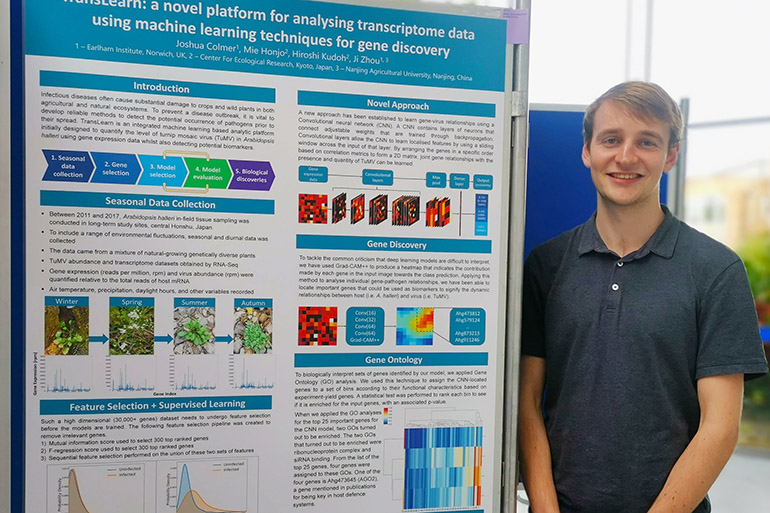 Anita Scoones, single cell genomics in the Macaulay Group
What have you learnt?
This year, one of the biggest practical things I've learnt is to be flexible with my expectations.
You get used to having this plan in your head, but you get to a point where things change and you have to adapt how you're thinking, or you're going to burn out. I've learnt to put my expectations in context of what's going on around me. I spent way too much time earlier this year frustrated and concerned about lagging behind, but I'm at a point now that I've learnt it's better to do your best with the things you have than worry about everything you're not doing.
In terms of my PhD, I am so much better at bioinformatics. I've been working a lot more at home, which has given me time to focus on this area I maybe didn't have time for when I was more lab focused. I've been doing analyses that I thought I'd never be able to do!
What are you most proud of?
One of the things that stands out is the teaching I've done. It was a really great, though surreal, experience to be able to demonstrate on the master's course I did two years ago - a role reversal! That was a nice moment.
I also recently taught on the Single Cell RNAseq course here at EI which was really well received, with compliments and follow up emails from people who had questions about collaborations or how to do things in the lab. I'm proud that I'm at a stage where I can communicate what I've learnt in a way that helps other people.
What are you looking forward to?
A lot of things have been put on hold, in terms of going to conferences. The plan this year was that I would present at three events for the first time, so I'm really looking forward to showing people the work I've done - even if it's only virtual for the time being. Presenting where I'm going next, which is exciting.
At this point, my work almost concludes a chapter of my thesis - so I'm looking forward to putting this data into a manuscript for publication and to start the next chapter of my thesis, and set of experiments.
PhD student Anita at work in the labs at Earlham Institute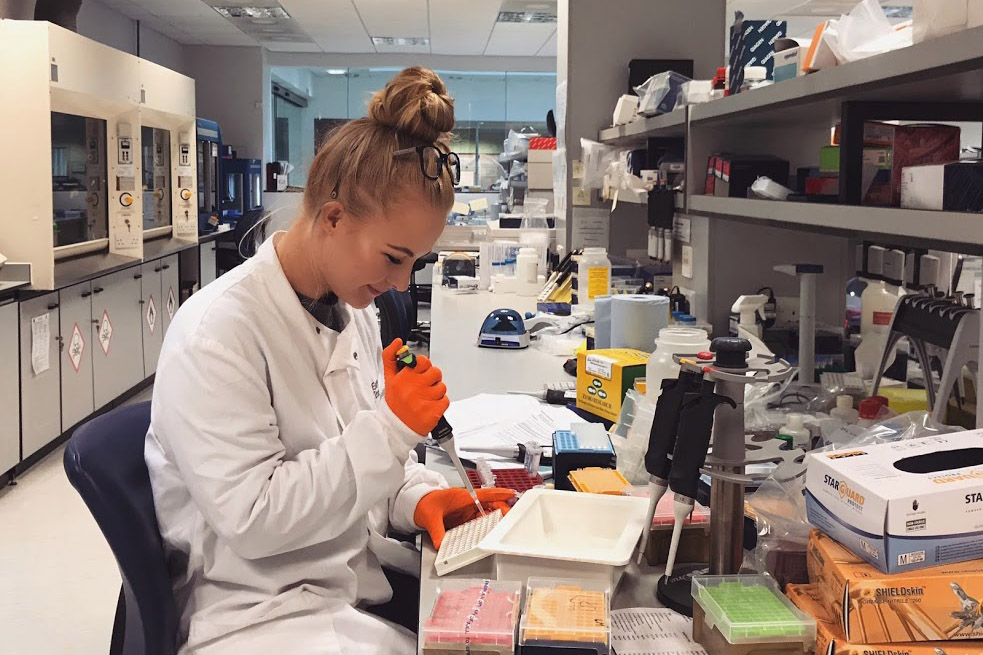 Sam Witham, synthetic biology in the Patron Group
What have you learnt?
I've learnt a lot of new technical things, but the main thing is being able to manage time between all of my different projects. My PhD is split between lab work and bioinformatics, so managing these different workloads means that organisation and time management is crucial.
What are you most proud of?
I'm proud that I've managed to teach myself Python, which I think is an important skill as a biologist. Computer scientists need to understand how data is generated, and people in the lab need to understand how to analyse that data - so having both skills is useful.
My PIPS internship in Ghana was also great - I've never worked abroad before, and being in such a different culture so far away gave me a great sense of independence.
What are you looking forward to?
I think tying together the results of all my different projects. There's a lot of preparation for the experiments I'm doing in the lab, so once I can add those results to the ones I've already got from my bioinformatics work, hopefully it will all feel worth the effort!
EI PhD students and researchers enjoying a social day out together in Norwich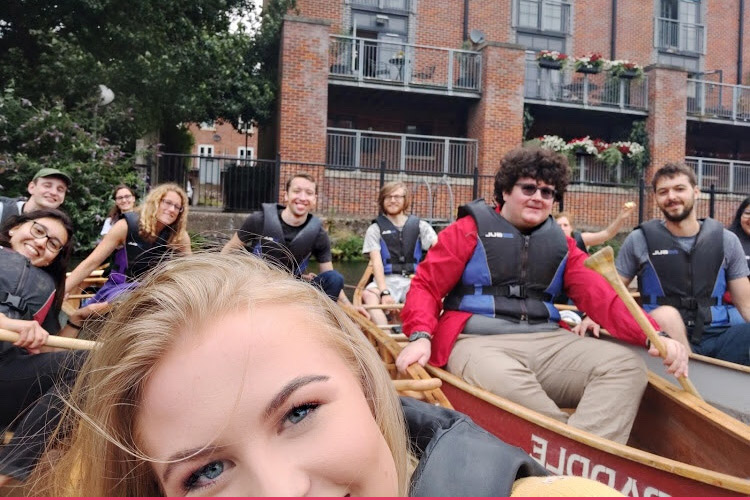 Norwich Research Park Biosciences Doctoral Training Programme (NRPDTP)
Matthew Madgwick, Martina Poletti, Josh Colmer, Anita Scoones, Peter Osborne and Sam Witham are all BBSRC funded PhD students on the NRPDTP programme.
Applications are now open for the 2021 NRPDTP PhD programme with Earlham Institute. From wheat research and synthetic biology, to single-cell genomics and machine learning, come and join the diverse community of researchers, students and staff on the Norwich Research Park.