Koala genome cracked Down Under to help save species
02 July 2018
Image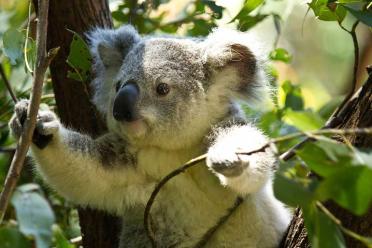 Scientists at the Earlham Institute in Norwich, UK, have played a major role as part of a consortium led by the Australian Museum Research Institute and the University of Sydney to sequence the koala genome for the first time, with the findings published in Nature Genetics. The findings of the research could ensure the long-term survival of one of the world's most beloved animals, which is under threat from habitat loss, chlamydia and the koala retrovirus (KoRV).
The koala is one of the world's most fascinating and iconic mammals. Not only is the koala synonymous with Australia it is also a powerful international symbol for the preservation and conservation of our natural world.
"The Koala Genome Consortium has been an ambitious journey affording us great insights into the genetic building blocks that make up a koala – one of Australia's, as well as the world's, most charismatic and iconic mammals." Professor Rebecca Johnson, Director of the Australian Museum Research Institute, said. "The expert contributions from the teams at the Earlham Institute were a critical component of this study. I'm so proud of the work this great collaboration has produced and thrilled it will be assisting future koala conservation efforts."
The Australian led consortium of scientists comprised 54 scientists from 29 different institutions across seven countries. They have sequenced over 3.4 billion base pairs and more than 26,000 genes in the Koala genome – which makes it slightly larger than the human genome. Unlocking the genomic sequence gives scientists unprecedented insights into the unique biology of the koala.
Co-lead author at the University of Sydney, Professor of Comparative Genomics, Katherine Belov said: "The genome provides a springboard for the conservation of this biologically unique species."
Earlham Institute's former Director of Science, Professor Federica di Palma, added: "This important and very successful collaboration with our partners in Australia has paved the way for future research into decoding other marsupial genomes, which will have important insights into improving conservation and better understanding health."
Koalas face a number of threats to their survival. In addition to the loss of their natural range since the arrival of Europeans, which severely reduces their genetic diversity, koalas face the daily threat of being run over by cars or attacked by dogs even in areas where they are thriving.
Furthermore, chlamydia is a persistent menace, causing blindness and infertility, while koalas also suffer from the koala retrovirus (KoRV). Dr Graham Etherington at the Earlham Institute, added: "The Koala genome provides us with an excellent platform to look into previously unknown anti-microbial genes that could be leveraged for human health."
The research has also allowed scientists to explore many of the interesting qualities of koalas - including how they manage to somehow survive on a strict diet. Dr Will Nash in the Haerty Group at Earlham Institute, said: "The Koala has evolved an excellent toolkit to deal with eating highly toxic eucalyptus leaves."
Dr Nash identified that koalas have two large expansions in a gene family known to be integral to detoxification. They found these genes to be expressed in many koala tissues, particularly in the liver; indicating they have a very important function in detoxification and likely allowed koalas to become dietary specialists. As Professor Johnson explains, "this probably helped them to find their niche to survive, as they could rely on a food source that would have less competition from other species who were not able to detoxify as effectively."
Evolutionary Genomics expert Dr Wilfried Haerty at EI who worked on the study, said: "The completion of the genome of the koala is a milestone for the study of Mammals genomes evolution and towards the conservation of this emblematic but threatened species. It is the first high-quality genome for a marsupial species, a group of species that has long been overlooked."
ENDS
Notes to editors.
For more information:
Hayley London
Marketing & Communications Officer, Earlham Institute (EI)
hayley.london@earlham.ac.uk
Accompanying interview with EI scientists: 'Helping to save the Koala: a conservation genome blueprint'
'Adaptation and conservation insights from the koala genome' published in Nature Genetics.
Other enquiries & media:
Media Site - images, footage, release, facts + figures: https://foto.australianmuseum.net.au/fotoweb/
Media Enquiries:
· Australian Museum: Claire Vince, Media Advisor, claire.vince@austmus.gov.au / + 61 468 726 910
· University of Sydney: Vivienne Reiner, Media and Public Relations Adviser (Faculty of Science)
vivienne.reiner@sydney.edu.au / +61 438 021 390
· La Trobe University:
- Anastasia Salamastrakis, Media Manager; a.salamastrakis@latrobe.edu.au /+61 428 195 464
- Claire Bowers / c.bowers@latrobe.edu.au /+61 437 279 903.
· University of Canberra: Liz Drummond, Engagement & Communications Officer, liz.drummond@canberra.edu.au / +61 2 6206 8384
· University of New South Wales: Isabelle Dubach; Media Officer: Faculty of Science. i.dubach@unsw.edu.au
· University of the Sunshine Coast: Terry Walsh, Manager, Media twalsh@usc.edu.au / 0407 002 467
· Western Sydney University: Dr. Ben Moore; Ecologist b.moore@westernsydney.edu.au / 4570 1384
· Earlham Institute Norwich Research Park, UK: Hayley London, Marketing & Communications Officer, Hayley.London@earlham.ac.uk +44 1603 450107
· European Bioinformatics Institute: Professor Paul Flicek, Senior Scientist Vertebrate Genomics / flicek@ebi.ac.uk / +44 223 49 4683
About Earlham Institute
The Earlham Institute (EI) is a world-leading research Institute focusing on the development of genomics and computational biology. EI is based within the Norwich Research Park and is one of eight institutes that receive strategic funding from Biotechnology and Biological Science Research Council (BBSRC) - £5.43m in 2017/18 - as well as support from other research funders. - as well as support from other research funders. EI operates a National Capability to promote the application of genomics and bioinformatics to advance bioscience research and innovation.
EI offers a state of the art DNA sequencing facility, unique by its operation of multiple complementary technologies for data generation. The Institute is a UK hub for innovative bioinformatics through research, analysis and interpretation of multiple, complex data sets. It hosts one of the largest computing hardware facilities dedicated to life science research in Europe. It is also actively involved in developing novel platforms to provide access to computational tools and processing capacity for multiple academic and industrial users and promoting applications of computational Bioscience. Additionally, the Institute offers a training programme through courses and workshops, and an outreach programme targeting key stakeholders, and wider public audiences through dialogue and science communication activities.
The mission of the EI is tackling global challenges through life science research. EI's research brings together a wealth of expertise in biosciences, bioinformatics, high-performance computing and biotechnology to understand complex biological systems in plants and animals and their interaction with the environment.
EI is supported by UK Research and Innovation Councils to ensure that biological science in the UK has access to a skill base in genomics technologies and bioinformatics to deliver programmes leading to improved food security, advances in industrial biotechnology and improved human health and wellbeing.
The institute is located on the Norwich Research Park (NRP) and also houses the Earlham DNA Foundry for accelerating progress in synthetic biology.
About BBSRC
The Biotechnology and Biological Sciences Research Council (BBSRC) is part of UK Research and Innovation, a non-departmental public body funded by a grant-in-aid from the UK government.
BBSRC invests in world-class bioscience research and training on behalf of the UK public. Our aim is to further scientific knowledge, to promote economic growth, wealth and job creation and to improve quality of life in the UK and beyond.
Funded by government, BBSRC invested £469 million in world-class bioscience in 2016-17. We support research and training in universities and strategically funded institutes. BBSRC research and the people we fund are helping society to meet major challenges, including food security, green energy and healthier, longer lives. Our investments underpin important UK economic sectors, such as farming, food, industrial biotechnology and pharmaceuticals.