March 11, 2021
Covid-19 one year on: responding to a global pandemic.
On 11th March 2020, the World Health Organisation (WHO) characterized COVID-19 as a pandemic. One year on, we're reflecting on how the Earlham Institute responded to the pandemic.
On 11th March 2020, the World Health Organisation (WHO) characterized COVID-19 as a pandemic. In his opening remarks, WHO Director General Tedros Adhanom said: "Pandemic is not a word to use lightly or carelessly. It is a word that, if misused, can cause unreasonable fear, or unjustified acceptance that the fight is over, leading to unnecessary suffering and death."
One year on, we're reflecting on how the Earlham Institute responded to the pandemic. From building COVID-19 testing capacity and understanding the effects of the virus on our immune system to supporting scientists working and learning remotely, we look back at the ingenuity and innovation that contributed to global efforts to end the pandemic.
Applying expertise in automation to scale up testing
In the Spring of 2020, COVID-19 was beginning to spread throughout the UK at an alarming rate. EI scientists played an essential role in quickly scaling up a new testing facility in the University of East Anglia Bob Champion Building, just a stone's throw from Norfolk and Norwich University Hospitals NHS Foundation Trust (NNUH) - the front line of the pandemic.
James Lipscombe and Dr Thomas Brabbs of the Genomics Pipelines Group worked hard throughout the Easter period in 2020 to develop flexible, automated protocols for RNA extraction and qPCR setup for COVID-19 testing.
Meanwhile, laboratory manager Geoff Plumb ensured that robots and other essential equipment could be successfully redeployed, meaning that the expertise and high-throughput automation normally offered to people through our Biofoundry could be redirected towards COVID testing.
James Lipscombe working in the COVID testing labs at EI
Ramping up COVID-19 testing for key workers
As the need for more testing continued to intensify, Director of Operations Sarah Cossey and Head of Genomics Pipelines Dr Karim Gharbi coordinated a volunteer drive across the Norwich Research Park (NRP) to help the NNUH increase capacity for COVID-19 testing of key workers.
Almost 200 staff from across NRP responded to the call within 48 hours and the first volunteers were deployed to NNUH within two weeks. Among the first volunteers to start working in the microbiology lab was postdoctoral scientist Dr Calum Raine, who was processing swab samples from patients, staff and key workers to test for COVID-19 using the gold standard qPCR method. He was then joined by another member of EI staff, senior project manager Dr Adi Kliot.
This important collaboration between NNUH, Earlham Institute (EI), the John Innes Centre (JIC), The Sainsbury Laboratory (TSL), Quadram Institute Bioscience (QIB), the University of East Anglia (UEA), Eastern Pathology Alliance and the Cotman Centre provided local testing for key workers, who otherwise would have had to travel to national test centres in Ipswich, Stansted or Peterborough.
Laboratory Manager Geoff Plumb has worked to ensure the continued smooth running of EI, in additional to facilitating and assisting the COVID-19 response.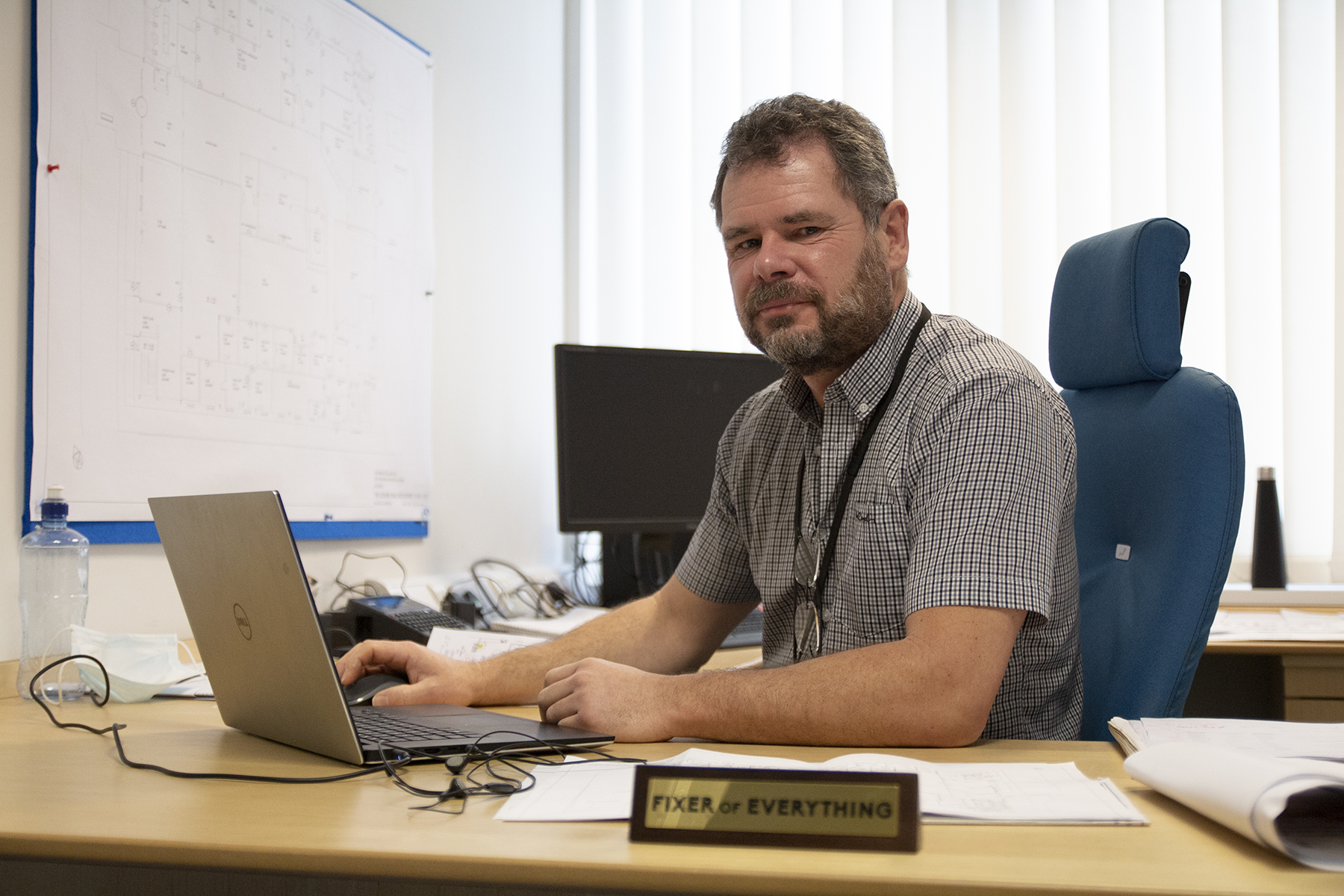 Adopting a systems approach to tackling COVID-19
At this time, the wildly varying systemic effects of COVID-19 were confounding doctors and scientists, necessitating a better understanding of how the virus was appearing to trigger an extreme inflammatory response throughout the body known as a cytokine storm.
Scientists of the Korcsmaros Group at Earlham Institute and the Quadram Institute therefore began applying their expertise in systems and network biology to the problem of COVID-19 as part of the international COVID-19 Disease Map effort.
The team quickly came together to generate new bioinformatics tools for the science community to understand how the SARS-CoV-2 virus infects cells, as well as how that infection then spreads throughout the whole body, by looking at it from the whole systems level. Importantly, those tools - including ViralLink - join up existing data from thousands of COVID studies that previously was not connected - increasing the chances of new discoveries leading to medical interventions more quickly.

Everybody realised there was an emergency. There was a real sense of teamwork and togetherness, everybody pulling in the same direction. I really enjoyed working in that atmosphere. We worked with a great bunch of people over at UEA, and we got a lot done.
James Lipscombe, Earlham Institute Genomics Pipelines
Mass testing pilot paves way for weekly COVID checks
Though the first lockdown of 2020 was very successful in reducing cases, it was never fully repressed, and as the pandemic continued into the summer it became clear that COVID-19 was a very different virus to deal with in many ways. Seemingly, though some showed incredibly severe disease and yet more a mild illness, many people had no symptoms at all.
EI Director Professor Neil Hall was among the leading voices expressing concern that undetected asymptomatic cases would lead to local outbreaks as 'silent spreaders' unwittingly transmitted the virus.
At the time, testing was mainly limited to people showing a range of symptoms, and asymptomatic testing was not yet common practice. Professor Hall and many other scientists argued that community testing could help prevent outbreaks before they took hold, and institutes such as EI were perfectly positioned to help detect hidden cases.
Paving the way for future community testing programmes that are now commonplace in the fight against the pandemic, the Earlham Institute therefore launched the Norwich Testing Initiative (NTI) along with partners on the Norwich Research Park (NRP).
Over 800 staff and students from across NRP took part in the first-of-its-kind pilot project, with Earlham Institute's Genomic Pipelines team managing to sequence more than 3000 samples in a two week period, providing results back to participants in as little as 9 hours. Since then the project has acted as a template for future local testing schemes, with more than 800 users having accessed the materials and methods we have made available.
Those in our Business Support function, such as Leigh, have supplied invaluable assistance in ensuring the EI building remains COVID-safe for our teams of researchers.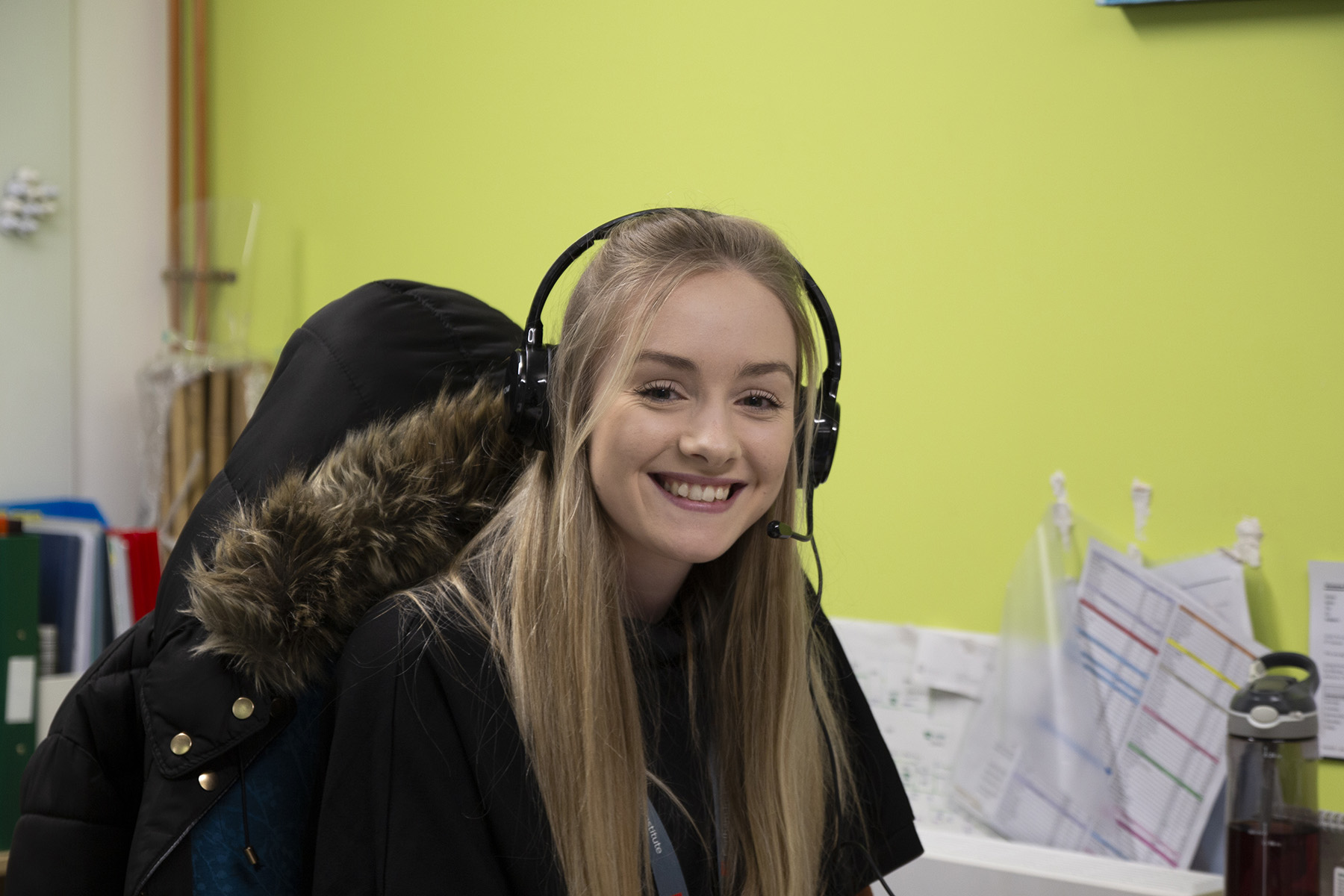 The operational teams have done an amazing job in supporting EI's science during the pandemic. Without them our research wouldn't have continued as effectively, nor would we have been able to deliver essential Covid testing to support the research park, local hospital and region. They should be immensely proud of what they have achieved in the last year.
.
Sarah Cossey, Director of Operations at Earlham Institute
Embracing the world of online events
COVID-19 forced a change in how we delivered events last year, and will continue to do so even as we navigate ourselves out of the worst of the pandemic. The move online posed significant challenges in delivering content of equal value and quality as face-to-face meetings but also reaped plenty of rewards - accessibility, inclusivity, and decreased environmental impact.
Though some were perhaps initially slightly wary of the shift online, feedback from participants and trainers alike suggests that in the future we will likely follow a hybrid model - a move supported by the BBSRC-UKRI.
According to Scientific Training and Education Team Manager Dr Emily Angiolini, "having seen first hand how inclusive and accessible our training and other events have been, we are excited to take a new stance with our future events, adapting them to so that we can have delegates both in-person and virtually attending, extending the potential reach and increasing inclusivity. These are the events of the future."
A view many of us were faced with this year as the world went online.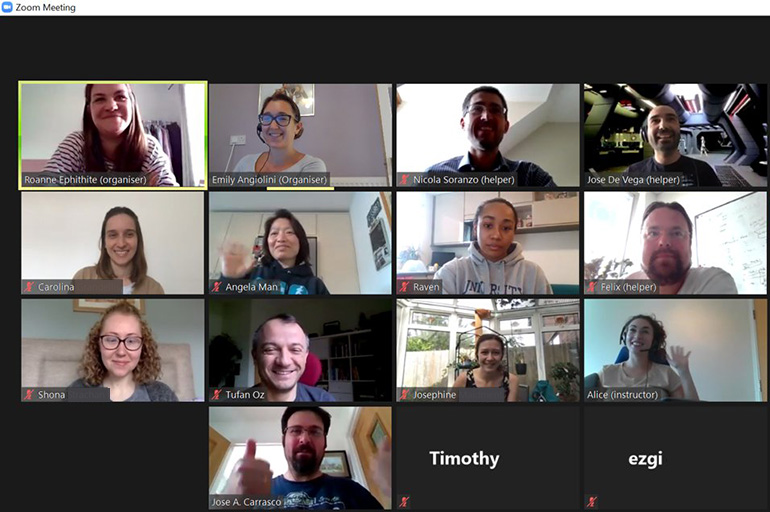 EI to provide Covid-19 testing for UEA staff and students
As summer ended and we moved into a new school term, many areas across the country were forced to lock down once more as the epicentre of transmission shifted from London to the North of England. Attention was on the return of pupils and students to schools and universities, as the spectre of a much-touted second wave lay on the horizon.
In a bid to limit asymptomatic transmission - particularly to highlight any potential clusters before they spread through the recently arrived student population - September saw the Earlham Institute partnering with the University of East Anglia (UEA) to provide all UEA staff and students on campus with COVID-19 self-swab tests.
Professor Neil Hall, Director of the Earlham Institute, said: "The Covid-19 second wave is partly being driven by transmission among younger, mostly asymptomatic, carriers. Community testing will give us the real-time information we need so the university can act quickly to disrupt the chain of transmission. I'm proud that we've been able to bring together local knowledge and expertise to help protect our community."
Senior Research Assistant Alex Durrant working on the COVID-19 testing for UEA staff and students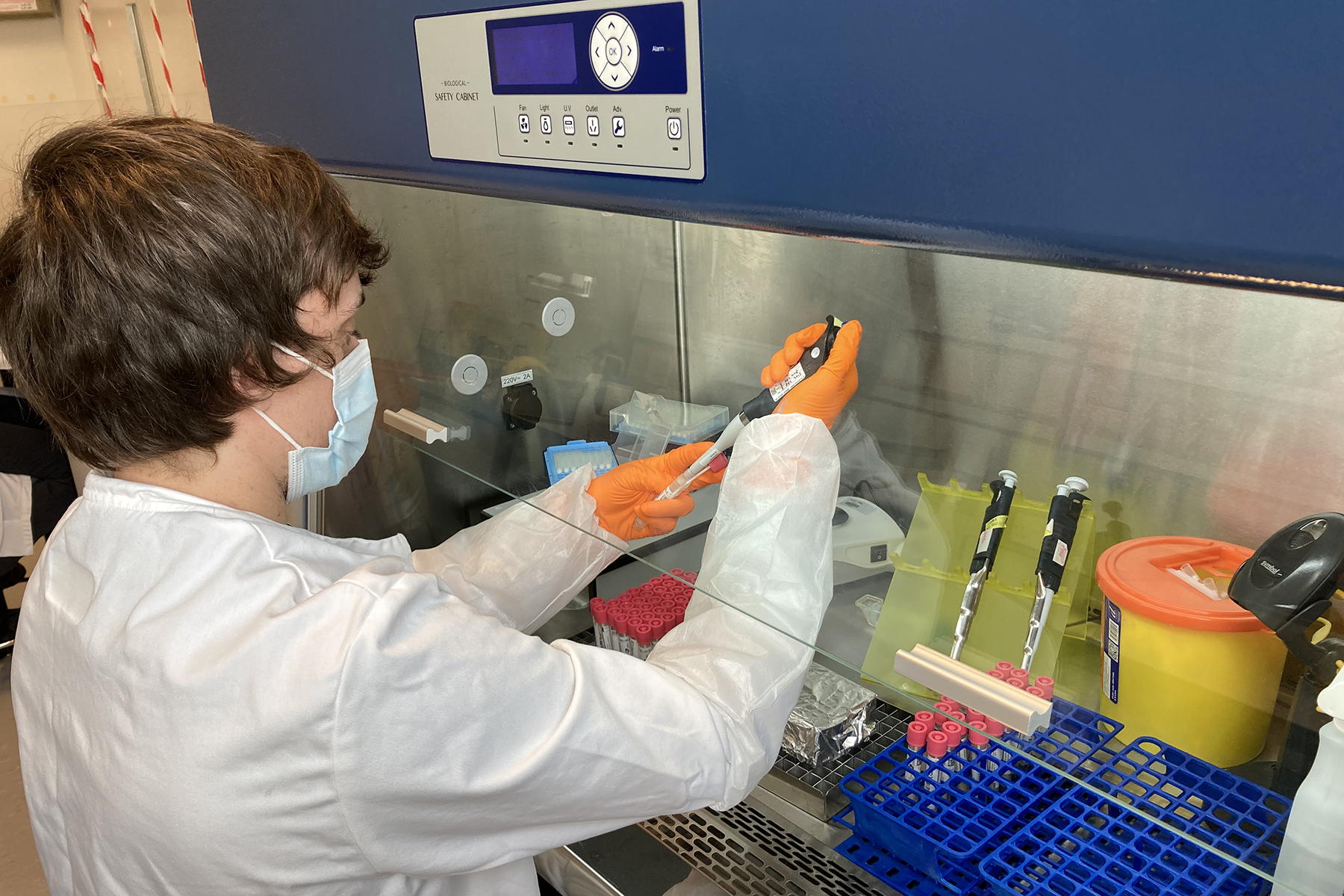 It has been really nice to see so many different people from across Norwich Research Park working together. It's how science should be - great collaborations getting things done.
Thomas Brabbs, Earlham Institute
ViralLink identifies key proteins in SARS-CoV-2-infected cells
With 2020 drawing to a close and winter fast approaching, scientists of the Korcsmaros Group at Earlham Institute and the Quadram Institute continued their research in systems and network biology as part of the international COVID-19 Disease Map effort, publishing ViralLink, an open access tool to analyse how the virus infects a host cell.
"Collaborative and multidisciplinary science is especially important at present due to the urgency of COVID-19," said first author Agatha Treveil. "This workflow aids that, by providing an easy-to-use tool to model the effect of viral proteins on an infected cell, which can be easily adapted as and when new data become available."
Bioinformatics researcher Agatha Treveil, First Author on the ViralLink publication in the labs at EI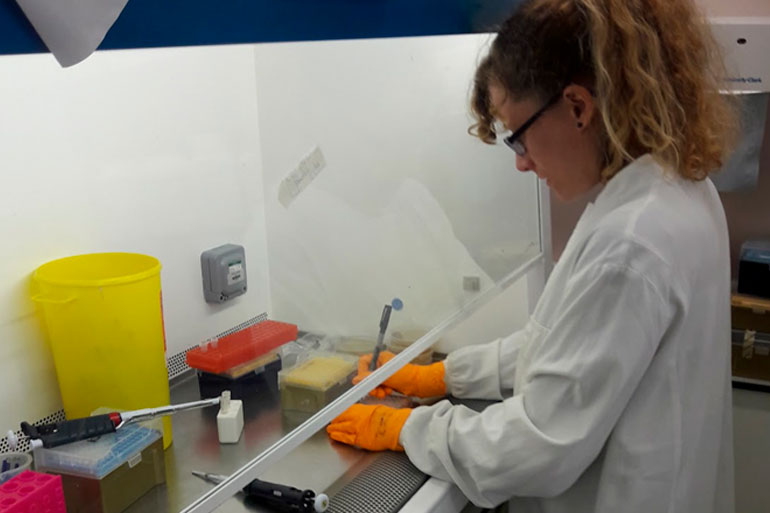 Could our immune system be why COVID-19 is so deadly?
Another important study to come from the Korcsmaros Group was a review of how the immune system responds to COVID-19 compared with other respiratory viruses, highlighting some key differences.
The Earlham Institute team worked alongside clinical virologist Claire Shannon-Lowe at the University of Birmingham, focusing their attention on how SARS-CoV-2 and other respiratory viruses cause a 'cytokine storm' - a hyper-activation of our own immune system - one of the main reasons for the high death rate in subgroup of COVID-19 patients.
The resource could prove beneficial to scientists and clinicians who are still looking for better treatments and diagnosis of the underlying causes behind the cytokine storm.
The two papers are a valuable addition to the wealth of literature being published on COVID-19, which has seen the scientific community come together across the world perhaps like never before. While that has been a glimmer in the pitch darkness of the pandemic, it is crucial that all of the disparate studies worldwide can be connected, which is precisely what the Korcsmaros Group, and their network biology tools, sought to achieve.
Looking to the future
With the New Year heralding the approval and roll out of coronavirus vaccines in the UK, it would be easy to prematurely hail the pandemic as over. However, with transmission rates still so high, the risk of new strains emerging became a serious concern.
In a co-authored editorial for the journal Virulence, Professor Neil Hall made the case for ongoing testing to get the transmission under control. Arguing for something akin to a zero-COVID approach, Professor Hall and the other authors warned against carelessness in the next stages of the national and global response to the pandemic.
In a number of cases, the virus had been shown to jump from animals to humans. This raised the worrying prospect of domestic animals, unwittingly infected with coronavirus, providing a breeding ground for new variants. These strains could be more infectious, more deadly, or - most worryingly - resistant to vaccines.
With testing still seen as central to the national response, the Earlham Institute stepped up once again. Working in partnership with the NNUH, a dedicated laboratory at EI was set-up by Dr Karim Gharbi and his team to pilot the use of saliva tests for frontline NHS staff, gradually replacing the lateral flow tests previously in use.
As well as establishing capacity to analyse tens of thousands of samples each week, the pilot was also an opportunity to trial new test booking systems and automation.
Prof. Neil Hall, Director of the Earlham Institute who championed the role of asymptomatic testing during the initial stages of the pandemic
Necessity is the mother of invention. This piece is testament to the ingenuity, creativity and dedication shown by the remarkable individuals working at the Earlham Institute. But every one of us has played their part.
The impact of this pandemic has been felt uniquely by each individual, testing our resolve and a combination of behaviours and instincts. Each one of us has played our part, yet not all contributions are publicly acknowledged.
To every person who has worked from home, every parent who has had to juggle childcare with their job, every key worker who has kept going, every cleaner and technician who has kept us safe and our buildings running, every individual who has taken a test, self-isolated or had the vaccine, and for the random acts of kindness that have helped to support others in times of need, we say thank you.
Thank you to people like Andrew, part of our cleaning and maintenance team at EI.