Earlham Institute – Decoding Living Systems for a better world
27 June 2016
Image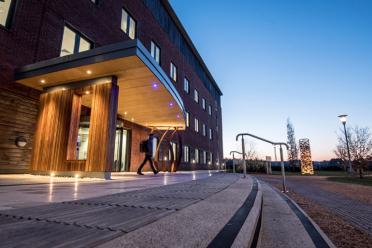 The Genome Analysis Centre (TGAC) will be changing its name to the "Earlham Institute" on 27 June 2016.
The Earlham Institute (EI) will build upon the research foundation developed as TGAC and continue to help answer the most fundamental questions in biological sciences today, from its home on Norwich Research Park.
The institute's genomics and bioinformatics research, enabled by DNA sequencing and supercomputing technologies, are already tackling issues such as food security, climate change, and health; through projects aimed at advancing our understanding of host-microbe interactions, and the impact of diversity on performance traits for crop and aquaculture improvement.
Established in 2009, and strategically supported by the Biotechnology and Biological Science Research Council (BBSRC), the Institute has seen significant growth in employee numbers and research output.
With the development and implementation of a new scientific and commercial (entrepreneurial) strategy and new Institutional leadership, the Institute is looking to the future.
Director of the Earlham Institute Professor Neil Hall, said: "Significant changes have taken place here in the last few years. The breadth of our research and collaborations means that a name focusing on just one area of our science simply could not accurately describe the range of work that we do. I am looking forward to leading the organisation in this new phase of its development as the Earlham Institute."
Chair of trustees Nigel Brown, said: "The Board is excited by the development of our institute from one primarily concerned with the acquisition and interpretation of genomic information to one that is collaboratively investigating important biological questions using multiple skills. This development is represented by our change of name."
BBSRC Chief Executive Professor Melanie Welham, added: "The future of biological scientific endeavour will see increasing collaboration between disciplines and we welcome the renaming of TGAC to the Earlham Institute to reflect its broader remit.
The change of name to Earlham Institute is part of a new visual identity for the Institute. The TGAC brand was reviewed taking into account the stakeholder perceptions including the name and logo. It was concluded that the name TGAC was no longer reflective of the evolution of the organisation and the breadth of scientific research being undertaken at the Institute.
Although the Institute has international stakeholders, the 'Earlham' name provides direct links to their locality and will further enhance community awareness and engagement and the broader Norwich Research Park; especially with their Norwich Research Park (NRP) partners, The University of East Anglia, who are a Corporate Member of the Institute's Board.
Earlham Institute receives strategic funding from BBSRC and operates a National Capability to promote the application of genomics and bioinformatics to advance bioscience research and innovation.
Notes to editors.
1) The Earlham Institute will also launch a brand new website on 27 June.
2) Our Research - the Faculty collectively conducts three kinds of research activities:
Fundamental research to increase our knowledge base in bioscience
Applied research to improve plant, animal and human health
Enabling research to empower both academia and industry with new technologies and scalable bioinformatics approaches
Scientific Programmes: Earlham Institute has three interdisciplinary programmes under which the faculty, fellows, postdocs and students aggregate to consolidate their expertise and to significantly increase our scientific impact.
3) Find out more about the Earlham Institute's Science Strategy
4) Follow the Earlham Institute on Twitter at @EarlhamInst
For more information, please contact:
Hayley London
Marketing & Communications Officer, Earlham Institute (EI)
About Earlham Institute
The Earlham Institute (EI) is a world-leading research institute focusing on the development of genomics and computational biology. EI is based within the Norwich Research Park and is one of eight institutes that receive strategic funding from Biotechnology and Biological Science Research Council (BBSRC) - £6.45M in 2015/2016 - as well as support from other research funders. EI operates a National Capability to promote the application of genomics and bioinformatics to advance bioscience research and innovation.
EI offers a state of the art DNA sequencing facility, unique by its operation of multiple complementary technologies for data generation. The Institute is a UK hub for innovative bioinformatics through research, analysis and interpretation of multiple, complex data sets. It hosts one of the largest computing hardware facilities dedicated to life science research in Europe. It is also actively involved in developing novel platforms to provide access to computational tools and processing capacity for multiple academic and industrial users and promoting applications of computational Bioscience. Additionally, the Institute offers a training programme through courses and workshops, and an outreach programme targeting key stakeholders, and wider public audiences through dialogue and science communication activities.
About BBSRC
The Biotechnology and Biological Sciences Research Council (BBSRC) invests in world-class bioscience research and training on behalf of the UK public. Our aim is to further scientific knowledge, to promote economic growth, wealth and job creation and to improve quality of life in the UK and beyond.
Funded by Government, BBSRC invested over £509M in world-class bioscience in 2014-15 and is the leading funder of wheat research in the UK (over £100M investment on UK wheat research in the last 10 years). We support research and training in universities and strategically funded institutes. BBSRC research and the people we fund are helping society to meet major challenges, including food security, green energy and healthier, longer lives. Our investments underpin important UK economic sectors, such as farming, food, industrial biotechnology and pharmaceuticals.
For more information about BBSRC, our science and our impact see: http://www.bbsrc.ac.uk For more information about BBSRC strategically funded institutes see: http://www.bbsrc.ac.uk/institutes