EI awarded £150k to help boost science innovation
28 May 2015
Image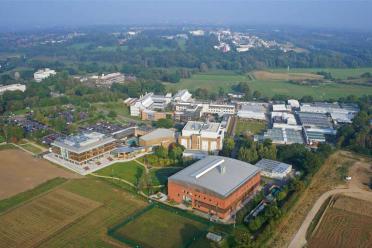 EI, with partner Institutes, has been awarded £150k from the Norwich Research Park Translational Fund for three data-driven projects to advance bioinformatics tools from concept to commercialisation for research and clinical use. The products will help defy 'big data' analysis to aid the development of effective personalised treatments, contributing to the UK's economy and social welfare.
The UK has one of the strongest global science communities that continues to account for 16 percent of the world's most cited scientific publications, however, innovation has declined in the last five years. Translational funding is paramount to accelerating concept to commercialisation, bridging the gap between basic science and its application.
Such grants will allow scientists at Norwich Research Park to utilise their intellectual assets that lead to successful commercial and societal impact on a local and national scale. Growing the potential for not only knowledge but also new techniques, products and ventures, which can help sustain UK productivity and economic prosperity.
The three translational funded projects:
• Façade: an Open Source library for visual exploration of genomic data
• OmiX Navigator – a visualisation and data integration software for life sciences
• The Natural Lead Structure Suggestion Tool
Façade: an Open Source library for visual exploration of genomic data
EI, in collaboration with Repositive.io, develop an open source toolset for visual exploration of genomics data for clinical research.
Without new tools that dramatically increase the efficiency of genomics applied informatics, the annual costs associated with analysis and interpretation of biological data will increase significantly from 35% of costs in 2012 to 55% of costs in 2020.1
With the biotech market expected to have an annual growth of 22.7% from 2012 to 2018 and to reach $580 million2, there is an increasing commercial need for informatics tools that facilitate access to the analysis of large genome data sets for research and clinical use.
Governments around the world are making DNA sequencing part of their mainstream healthcare by launching large population sequencing projects. In parallel, research and pharmaceutical organisations are generating a vast amount of data and collaborations around managing and analysing wide-reaching studies.
The gap between the high production of data and its interpretation in genomics research requires efficient visualisation tools to allow clinicians and researchers to identify the genetic causes of diseases and traits.
Façade, an open source web interface coupled to visualise genomic data from the Repositive.io platform, will directly address this growing commercial demand in the research community by enabling visual exploration solutions for genomics, supporting those that lack resources to leverage vast amounts of data.1 The tool's design will allow for easy configuration to connect with other data sources of either public or private data.
Facilitating user-driven queries that indicate genomic markers to help diagnose genetic diseases, the bioinformatics software will enable clinicians and researchers to explore genome data in a visual and interactive manner without writing complex queries or programming code.
Manuel Corpas, project lead and Project Leader at EI, said: "We expect Façade to make a significant impact in the way clinicians and researchers interact with heterogeneous and distributed sources of genomic data in an intuitive way."
Multi-functional data integration software tool to improve metadata and network analysis efficiency
EI, in collaboration with the Institute of Food Research (IFR), develops a novel software that provides a comprehensive systems biology platform for the integration of diverse datasets. The bespoke Omix Navigator will be available from spring 2016.
In bioscience, thousands of new biological datasets and resources are published on an annual basis. Evaluation and integrated work with these systematic resources are difficult as many of the datasets are stored in different formats. Around 70 per cent of data-driven projects now involve managing data for integration, transforming, and cleansing even before the actual analysis starts.
Integration of diverse data types such as disease, genomic, proteomic or transcriptomic datasets is an extremely time and resource consuming. Omics-specific tools, like Galaxy, ELM, Expasy are efficient in focusing on one data type but cannot help the users to work on the necessary, multi-scale level and combine different omics datasets.
For metadata analysis, it is necessary to provide tools that enable an all-in-one biological system. OmiX Navigator, works as a cloud-based web service, will include advanced visualisation, multi-layered databases, data integration and evaluation solutions, as well as network analytical tools and workflow management platforms.
Project Lead Tamás Korcsmáros, Computational Biology Fellow at Earlham Institute (EI) and Research Leader at IFR, said: "Researchers with wet lab backgrounds have different biological questions, but in most cases, the computational methods to help investigate a scientific problem and to guide the experiments are very similar.
"However, the available software solutions do not allow the straightforward analysis of complex biological questions, such as host-pathogen interactions, systems-level changes between different livestock trait and genome-wide analysis of inflammatory diseases in human.
"With Omix Navigator, we will provide an easy-to-use, plug & play like software for colleagues to facilitate systems biology related projects. I am very excited to work on this project with the excellent computational biologist colleagues at EI and wet lab researchers at IFR to develop the Omix Navigator in the Norwich Research Park."
The OmiX Navigator prototype will be tailored to its target markets including research institutions, Contract Research Organisations (CROs) and SMEs in the biotech sector; available from March 2016.
New tool suggests candidate molecules to speed-up drug discovery
EI, in collaboration with IFR, aims to develop a bioinformatics software that will predict active compounds for drug advancement for personalised medicine.
NaLeSST (Natural Lead Structure Suggestion Tool) will be a valuable tool in accelerating the drug discovery process, with the potential for commercial applications in the era of personalised medicine to fight complex diseases and resistant bacteria.
Although multiple computational biology approaches are used in rational drug design, the current tools present a number of challenges such as chemical libraries containing molecules that are too different in structure from natural products; inefficient library search; extensive manual work in the drug development pipelines; and unexpected subsequent toxicity and adverse drug responses.
As it progresses, the project will benefit from incorporating existing knowledge and data acquired by high-throughput genomic techniques, including evidences gained in health-related projects across the Norwich Research Park.
Co-Project Lead Wiktor Jurkowski and Group Leader of Integrative Genomics at EI, said: "The idea of NaLeSST was fuelled by our experience in cheminformatics molecular modelling and shared interest to unravel the potential of natural compounds.
"New routes of discovery are urgently needed. Currently, there are no specialised resources to facilitate the pathway to hitting drug targets by leading development focusing on natural compounds.
"We believe that such a resource would become a choice tool for companies dealing with early stage drug research and development, in particular, searching for new routes to identify active leads. For any target molecule, NaLeSST can automatically suggest potential lead structures as starting points for corresponding drug development, cutting short the dominating costly expert-driven research.
"We observed over the last decade, a decrease of new chemical entities being introduced to the market. We believe that our research can contribute to revert this trend."
EI is strategically funded by BBSRC and operates a National Capability to promote the application of genomics and bioinformatics to advance bioscience research and innovation.
Notes to editors.
1. Global Next Generation Sequencing Informatics Market, Frost & Sullivan, October 2013
2. Global Next Generation Sequencing Informatics Market, Frost & Sullivan, October 2013
For more information, please contact:
Hayley London
Marketing & Communications Officer, Earlham Institute (EI)