Key tilapia genome offers boost to global food security
06 February 2023
Image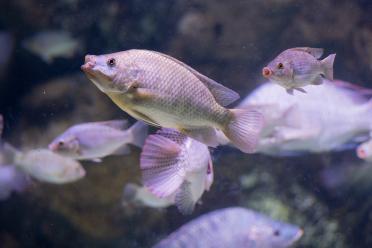 The first full, high-quality reference genome for a genetically improved tilapia strain has been published, offering the potential to improve food security for billions of the world's poorest people.
A collaboration between the Earlham Institute, the Roslin Institute, and WorldFish has produced this fundamental resource for fish breeders looking to develop strains that grow bigger, grow quickly, and have improved resilience to the environmental challenges of a warming planet.
Importantly, it reveals substantial and unique genetic variation in farmed strains of tilapia, highlighting the need to use this strain-specific resource to inform future breeding programmes.
Our appetite for aquatic foods has meant many wild fish populations around the world have become threatened through overfishing. For billions of people, however, protein from fish and shellfish is no mere luxury - it is an essential source of protein and other nutrients.
To meet the demand, aquaculture - the farming of fish and shellfish in coastal and inland waters - has proliferated rapidly over the last 25 years.
The Nile tilapia, Oreochromis niloticus, is the third most farmed species of fish in the world. Its success is largely thanks to continuous efforts to breed strains that can grow and gain weight quickly.
The Genetically Improved Farmed Tilapia (GIFT) programme, spearheaded by the research institution WorldFish (CGIAR), has given rise to one of the elite strains found today and distributed worldwide. But this has all been achieved through selective breeding without a complete reference genome.
Dr Wilfried Haerty, study author and Group Leader at the Earlham Institute, said: "A reference genome provides a full, annotated catalogue of all the genes in an organism. This crucial resource is the basis for modern breeding programmes.
"WorldFish, who are leading on further developments of GIFT, can now use the reference genome as the baseline to work from when looking to breed beneficial traits."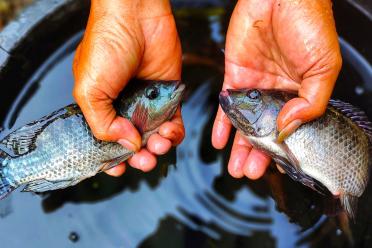 To accelerate the development of improved GIFT strains through genomic selection, researchers at the Earlham Institute and Roslin Institute teamed up to generate a near complete and high-quality reference genome.
WorldFish provided tissues to Earlham Institute researchers, who used a combination of short- and long-read sequencing techniques to create a chromosome level genome assembly for GIFT. This was supported by a linkage map developed at the Roslin Institute, built on work from WorldFish to develop a SNP chip.
The genome was then annotated, using a cutting-edge approach developed by the Swarbreck Group at the Earlham Institute.
Dr John Benzie, WorldFish Acting Director of Aquatic Foods Biosciences, said: "This collaboration has laid a strong foundation for us to produce new strains of GIFT that are more resilient to a changing climate – reducing production risks for fish farmers and increasing yield to feed nutritious animal protein to a growing global population."
The GIFT strain was originally developed from a mix of commercial and wild Nile tilapia strains, as well as crosses with other species. By using the genomes of closely-related species, including Oreochromis mossambicus and Oreochromis aureus, they were able to reveal the extent to which genetic material may have passed between species in the past - and identify the specific regions in the GIFT genome.
They found over 11 million bases of O. mossambicus genomic material within the GIFT genome, including genes associated with immunity and growth rate. The discovery will help guide future breeding programmes and improve the understanding of genes associated with beneficial traits in farmed fish species.
"We've generated a chromosome level assembly of the GIFT strain," explains Dr Haerty, "characterising its mixed origins and the potential contributions of introgressed regions to selected traits. This gives breeders the information they need to develop new programmes with confidence.
"Because of the breeding history of elite strains, we now realise the reference genomes currently available might not be suitable to support further studies into elite strains."
Dr Diego Robledo, study author at the Roslin Institute, said: "The insights offered by development of the entire genome of this key fish species will enable research towards ensuring sustainably produced supplies, to support a healthy source of nutrition for growing populations."
Notes to editors.
The paper, Chromosome-level genome sequence of the Genetically Improved Farmed Tilapia (GIFT, Oreochromis niloticus) highlights regions of introgression with O. mossambicus, has been published in the journal Communications Biology.
G. J. Etherington, W. Nash, A. Ciezarek, T. K. Mehta, A. Barria, C. Peñaloza, M. G. Q. Khan, A. Durrant, N. Forrester, F. Fraser, N. Irish, G. G. Kaithakottil, J. Lipscombe, T. Trong, C. Watkins, D. Swarbreck, E. Angiolini, A. Cnaani, K. Gharbi, R. D. Houston, J. A. H. Benzie & W. Haerty
DOI: 10.1186/s12864-022-09065-8
For more information, please contact:
Greg Bowker
Head of Communications, Earlham Institute (EI)
 +44 (0)1603 450 895 / greg.bowker@earlham.ac.uk
About the Earlham Institute
The Earlham Institute is a hub of life science research, training, and innovation focused on understanding the natural world through the lens of genomics. Embracing the full breadth of life on Earth, our scientists specialise in developing and testing the latest tools and approaches needed to decode living systems and make predictions about biology.
The Earlham Institute is based within the Norwich Research Park and is one of eight institutes that receive strategic funding from UKRI Biotechnology and Biological Science Research Council (BBSRC), as well as support from other research funders.
About WorldFish  
WorldFish is an international, nonprofit research and innovation institution that creates, advances, and translates aquatic food systems science into scalable solutions. We vision an inclusive world of healthy, well-nourished people and a sustainable blue planet, now and in the future. Our mission is to end hunger and advance progress on the 2030 Sustainable Development Goals through science and innovation to transform food, land, and water systems with aquatic foods for healthier people and the planet. 
For over 45 years, WorldFish's data, evidence, and insights have shaped practices, policies, and investments to end hunger and advance sustainable development in low- and middle-income countries.  We have a global presence across 20 countries in Asia, Africa, and the Pacific, with 460 staff of 30 nationalities deployed where the most significant sustainable development challenges can be addressed through holistic aquatic food systems solutions. Embedded in local, national, and international partnerships, our work sets agendas, builds capacities, and supports decision-making for climate action, food and nutrition security, sustainable fisheries and aquaculture, blue economy, One Health, and AgriTech, integrating gender, youth, and social inclusion. 
A core element of the 2030 WorldFish Research and Innovation Strategy: Aquatic Foods for Healthy People and Planet is focused on building the resilience of aquatic food systems to shocks, which is critical to COVID-19 response and recovery. 
WorldFish is part of CGIAR, the world's largest agricultural research and innovation network. 
For more information, please visit https://www.worldfishcenter.org. 
About CGIAR  
CGIAR is the world's largest global agricultural innovation network. We provide evidence to policy makers, innovation to partners, and new tools to harness the economic, environmental and nutritional power of agriculture. 
CGIAR has a wealth of experience and knowledge spanning 50 years that builds on a track-record of innovation and world-class research. Thanks to our funders, CGIAR research has transformed the lives of hundreds of millions of people through tangible research outcomes. 
The 15 CGIAR Research Centers are independent, non-profit research organizations, conducting innovative research. Home to more than 8,000 scientists, researchers, technicians, and staff, CGIAR research works to create a better future for the world's poor. Each Center has its own charter, board of trustees, director general, and staff. CGIAR Research Centers are responsible for hands-on research programs and operations guided by policies and research directions set by the System Management Board. 
For more information, please visit https://www.cgiar.org.